Diego Gomez-Nicola
Principal Investigator, Principal Research Fellow (Associate Professor) 
Diego Gomez-Nicola is a Principal Research Fellow (Associate Professor) in Neuroscience at Biological Sciences of the University of Southampton. He graduated from the Complutense University (Madrid, Spain) in Biological Sciences (Neuroscience) in 2003 and completed his PhD at the Cajal Institute (Madrid, Spain) in 2008, studying the roles of microglial IL-15 in brain pathology under the supervision of Prof. Nieto-Sampedro. After a first postdoctoral stage at the National Hospital of Paraplegics (Toledo, Spain), he moved to the University of Southampton (UK) to complete his postdoctoral training under the supervision of Prof. Perry thanks to a Marie Curie fellowship (EU). His started his independent lab in 2013 thanks to the award of a New Investigator Grant of the MRC.
---
---
---
Gemma Fryatt
Research technician (joint DGN and VHP labs)
Gemma Fryatt is a Research Technician in Neuroscience for the DGN lab. She completed a BSc at Portsmouth University in Forensic Biology in 2008. This was followed by a few years working in industry and 18 months travelling through Asia. On returning to the UK Gemma completed an MSc with Kings College London in Neuroscience with Neurodegeneration, after which she obtained her role with the University of Southampton.
Email: g.fryatt@soton.ac.uk 
---
Jennifer Dewing
Research technician
Jennifer completed her undergraduate degree in Biology from the University of Southampton in 2011. She then undertook a 4-year integrated MRes/PhD in Stem Cell Biology in the Faculty of Medicine at Southampton. Her PhD was supervised by Professor David Wilson and investigated the reprogramming of human fetal fibroblasts into cardiomyocytes for the treatment of heart disease. After completing her PhD in 2016, she continued laboratory-based research in the area of fetal cardiac cell composition and genetics, collaborating with the Genomic Informatics groups. In 2017, she joined Diego's lab to help in the validation of a number of myeloid cell antibodies in both human and mouse samples.
Email: jmd2g08@soton.ac.uk
---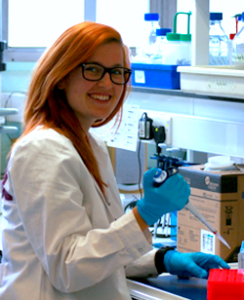 Katharine Askew
PhD Student
Katie Askew is a PhD student in Neuroimmunology at the University of Southampton. She graduated with First Class Honours in the Integrated Master of Biomedical Sciences program at University of Southampton in 2015, winning the Southampton Neuroscience Group (SoNG) VHP Prize for Outstanding Performance in a Master Research Project. During this time she completed two summer placements with the DGN lab, studying the basal rate of microglial proliferation in the healthy brain. Her PhD project continues this work, focusing on the mechanisms regulating the dynamics of the microglial population in the healthy brain and ageing. Outside the lab, Katie entertains an amateur interest in coral reef ecology and shark biology, and talks about her rabbit Lola to anyone and everyone who will listen.
Email: K.E.Askew@soton.ac.uk
---
Current students:
Rosie Marshall (MRes Advanced Biological Sciences)
Lucy Kimbley (MRes Advanced Biological Sciences)
Claire Butler (MSci Biomedical Sciences)
---
Former lab members:
Adrian Olmos-Alonso, M.Sci., Senior technician, Hospital Clinico San Carlos (Madrid, Spain)
Madeleine Cleal, B.Sci., PhD Student (University of Portsmouth)
Richard Reynolds, B. Sci., Cellular Pathology Service (NHS)