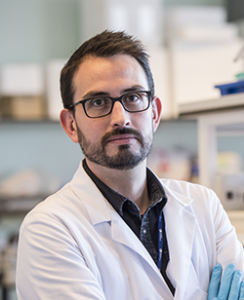 Diego Gomez-Nicola
Principal Investigator, Associate Professor in Neuroscience
Diego Gomez-Nicola is an Associate Professor in Neuroscience at Biological Sciences of the University of Southampton. He graduated from the Complutense University (Madrid, Spain) in Biological Sciences (Neuroscience) in 2003 and completed his PhD at the Cajal Institute (Madrid, Spain) in 2008, studying the roles of microglial IL-15 in brain pathology under the supervision of Prof. Nieto-Sampedro. After a first postdoctoral stage at the National Hospital of Paraplegics (Toledo, Spain), he moved to the University of Southampton (UK) to complete his postdoctoral training under the supervision of Prof. Perry thanks to a Marie Curie fellowship (EU). His started his independent lab in 2013 thanks to the award of a New Investigator Grant of the MRC. In 2019 he was the Head of Neuroimmunology at Eli Lilly and Company, where he supervised the preclinical efforts in targeting neuroinflammation in neurodegeneration and pain. Now, he returned to lead his academic team, focused to studying microglia in health and disease.
E-mail: d.gomez-nicola@soton.ac.uk
---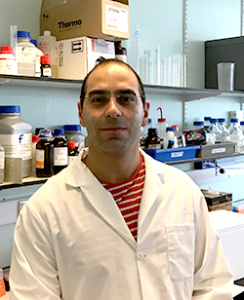 David A. Menassa
Postdoctoral fellow 
David obtained his B.Sc. in biological and earth sciences at the Université Saint Joseph in Beirut in 2006. Following a brief spell at the École Normale Supérieure in Paris, he completed his M.Sc. in applied physiology at the University of Oxford followed by an M.Phil. in bioenergetics at the University of Cambridge. In 2009, he was awarded a Clarendon scholarship to pursue his D.Phil. (Ph.D.) studies in clinical neurology at the University of Oxford. Since 2014, he has held two postdoctoral appointments at Bristol and Oxford and investigated the role of maternal factors, which can alter synaptic wiring in the offspring and increase the incidence of neurodevelopmental disorders such as autism spectrum disorders, mental retardation and schizophrenia. More importantly, whether these maternal factors could be blocked would be pivotal for potentially rescuing the clinical phenotype. David joins the Gomez-Nicola laboratory to investigate microglial dynamics during development in the rodent and human brain funded by a Leverhulme Trust research grant.
E-mail: d.menassa@soton.ac.uk
---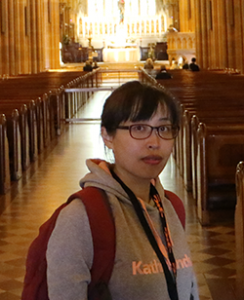 Yanling Hu
Postdoctoral fellow 
Yanling Hu graduated at Umea University (Sweden) in Molecular Biology (Biomedical area) in 2009. Then she worked as a research assistant and technician at the department of clinical virology at the Umea University hospital. After that, she moved to Australia for her PhD studies at the Menzies research institute for medical research University of Tasmania and joined into Prof. David H Small's group. Her PhD study has been the role of amyloid precursor protein in neural stem cell proliferation and differentiation and she got her PhD degree in August 2016. After that, she moved to the US to study the role of Nemo-like kinase in microglia in two Alzheimer's mice model (APPPS1 and 5xFAD), and the role of valosin containing protein in spinal bulbar and muscular atrophy. At the beginning of 2018, she joined Diego Gomez-Nicola's lab, focusing on microglia function in Alzheimer's disease (AD).
E-mail: y.hu@soton.ac.uk
---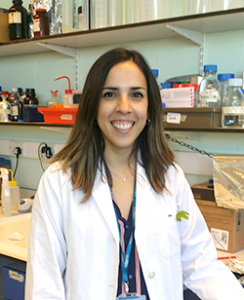 Maria Martin-Estebane
Postdoctoral fellow
Maria graduated from the University of Granada (Granada, Spain) in Biology in 2010. In 2011 she completed her MSc in Biotechnology and continued with her PhD in Cell Biology at the University of Granada focusing on the mechanisms that regulate microglial dynamics during embryonic development of the retina, under supervision of Prof. Julio Navascues, which she completed in 2017. Now she has joined Diego Gomez-Nicola's lab to study microglia functions in neurodegenerative diseases.
---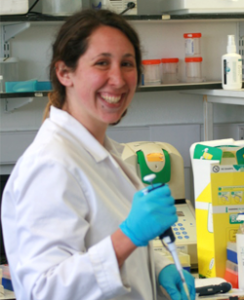 Gemma Fryatt
Research technician
Gemma Fryatt is a Research Technician in Neuroscience for the DGN lab. She completed a BSc at Portsmouth University in Forensic Biology in 2008. This was followed by a few years working in industry and 18 months travelling through Asia. On returning to the UK Gemma completed an MSc with Kings College London in Neuroscience with Neurodegeneration, after which she obtained her role with the University of Southampton.
Email: g.fryatt@soton.ac.uk 
---
Monica Guerrero-Carrasco
PhD Student
Monica is a PhD student in Neuroimmunology at Southampton University. She completed her undergraduate degree in Biology at Universidad Autonoma de Madrid, Spain in 2016. In 2017 she completed her MSc degree in Clinical Neuroscience with distinction at Roehampton University, London. Now she has join DGN lab to study the role of early-life inflammation on the incidence of Alzheimer's disease.
Liam Barry-Carroll
PhD Student
Liam did his undergraduate in physiology at Trinity College Dublin where he carried out a final year research project supervised by Professor Marina Lynch. The project investigated the responsiveness of monocyte-derived macrophages between two groups of elderly individuals, a control group and a group presenting with a mild memory deficit, to the NLRP3 activating stimuli LPS and AB. He was awarded with the best project prize in his class for my thesis based on this project. The aim of his PhD project is to investigate the use of fluorescent labels to track microglia in developing and ageing mice, in order to get a better understanding of microglial cell dynamics. In my spare time, I enjoy reading and running.
Email: l.barry-carroll@soton.ac.uk
Tim Muntslag
PhD Student
Tim is a PhD-candidate in Clinical and Experimental Sciences, funded by the Institute for Life Sciences (IfLS) and the Medical Research Council (MRC). Prior to joining the lab of Dr. Diego-Gomez Nicola, he has received extensive training in neurodegeneration, neuroimmunology and mitochondrial function, with a particular interest in microglial function. In his project in Southampton he will continue to work on microglia, aiming to elucidate previously unknown microglial phenotypes in development and ageing.
Email: t.a.o.muntslag@soton.ac.uk
---
Current students:
Andrea Mante, M. Biomed.
Heather McKenzie-Phillips, M. Neuro.
---
Former lab members:
George Goad, M.Neuro.
Daniel Thomas, M.Neuro.
Katharine Askew, Postdoctoral Fellow (University of Edinburgh)
Liana Barkwill, M.Res.
Irina Vasiliescu, M.Res.
Juliane Obst, PhD, Postdoctoral Scientist (ARUK Oxford Drug Discovery Institute, UK)
Amy Stevens, M.Neuro.
Miles Cottier, M.Neuro.
Emilie Simon, PhD, Postdoctoral Scientist (London, UK)
Adrian Olmos-Alonso, M.Sci., Research fellow (University of Edinburgh)
Madeleine Cleal, B.Sci., PhD Student (University of Portsmouth)
Richard Reynolds, B. Sci., Cellular Pathology Service (NHS)
Claire Butler, M.Sci., PhD Student (University of Cambridge)
Rosie Marshall, M.Res., PhD Student (UCL)
Lucy Kimbley, M.Res.
Jennifer Dewing, Ph. D., Postdoctoral Fellow (Faculty of Medicine, University of Southampton)